Gas chimneys are the most popular option for modern houses. These chimneys are even more popular than wood-burning fireplaces. If you want to add warmth, coziness, and comfort to your house, you'll want to install a gas fireplace. But like other essential utilities and home appliances, the gas chimney requires daily, monthly, and yearly maintenance. One of the most essential maintenance is cleaning a gas chimney.
As a sensible owner of a modern-built house, looking for professional solutions for gas chimney cleaning is expected.
Here's a step-by-step guide to cleaning gas fireplaces according to professional cleaning experts.
Is Cleaning A Gas Chimney A DIY Job?
When cleaning a gas chimney, you must ensure that the creosote buildup is completely removed. In most chimneys, the fire starts in the smoke area, which is hard to reach. You must exercise extreme caution and have a certain level of knowledge and expertise to clean a gas chimney.
If you're not well versed in Gas Chimney Cleaning, it's best not to take it up as a DIY Job.
Things You'll Need
Fireplace Glass Cleaner
A soft-bristled brush
A microfiber cloth
A Screwdriver
A vacuum cleaner with a hose attachment
Cheesecloth (optional)
A can of compressed air (optional).
Newspaper or tarp (optional)
Steps to Clean A Gas Chimney
Turn off the Gas: Turn off the gas and make the system cold. Furthermore, make sure the pilot light is out before starting.
Disassemble the fireplace: Use a screwdriver to disassemble the glass covering and remove the mesh curtain or metal screen if your fireplace has one. Now, scatter the logs and remember where the logs were assembled initially. You can click a picture with your phone camera to quickly restore the logs to their original setting after cleaning.
You can click a picture of the original placement because once you are done with the entire process, the logs should go back to the previous area.
Cleaning glass cover, mesh curtain, and metal screen: Clean the glass, mesh, or metal; clean everything you have disassembled. Follow the manual, so you don't make a mess, and could follow if they have any suggestions for cleaning.
Lay the glass covers on a clean, soft surface. Use a cloth or towel as a soft surface to place the glass on. The glass cleaners need to sit for several minutes, so you can start cleaning other things while the glass covering gets time to be prepared.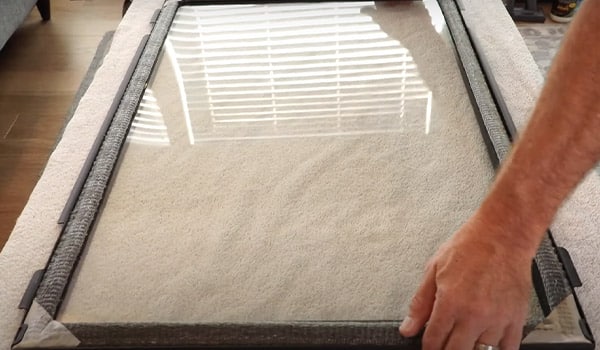 If your chimney has a mesh curtain or metal screen, use a vacuum with a home attachment to remove dust and dirt from both sides.
Cleaning the inside of a fireplace: Use the vacuum and home attachment to clean dust and dirt from inside the fireplace. If the pebbles are small enough to be pulled into the vacuum, use a rubber band to fix a piece of cheesecloth to the end of the nozzle. Vacuum clean the firebox.
Use a soft-bristled brush or an old microfiber cloth bathed in warm soapy water to clean the pilot light and gas line. When you're done, ensure there's no soap left on these components. You may also use compressed air to clean these pieces.
Clean the logs: Use the vacuum and hose attachment to clean the logs. It's always best to use a dry cloth or brush. Since the logs use electric power, never use anything that carries electricity, like any cleaning products or moisture.
Clean the glass cover: Remember how you kept the glass for a few minutes so the cleaner could sit on it properly? You may now wipe the Cleaner dry from both sides using a dry microfiber cloth.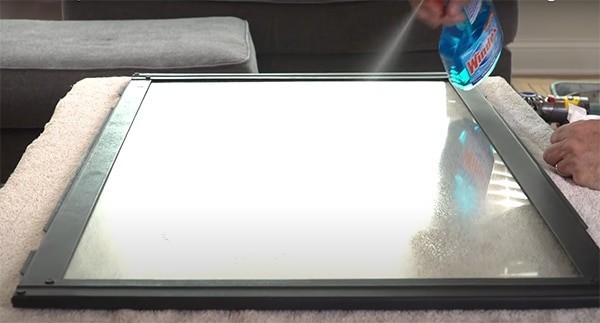 Reassemble the fireplace: Once all the parts have been cleaned and dried, reassemble the gas chimney with the help of the picture you took when disassembling it.
Clean your mantle and hearth: Now that you've cleaned the fireplace inside, it's time to seal the deal by cleaning the mantle and hearth. Use a duster or soft cloth to clean them. Just rub gently and remove all dust from the fireplace mantle and hearth.
Here's a youtube video link that shows the complete process of cleaning a gas chimney.
What Extra Benefits Do Professionals Provide When Servicing A Fireplace?
Fireplace Cleaners inspect the exterior of your gas chimney. Equipped with expertise and a long-term experience alongside access to cutting-edge technology, fireplace cleaners can figure out the issues revolving around your fireplace.
Checking the glass: Professionals check the fireplace glasses and find out if there are any cracks. They then provide immediate solutions to any damages or issues upon discovery. Not to mention, they use the best cleaning products on the market to clean the glasses.
Inspecting the logs: Expert fireplace cleaners are equipped with the knowledge and expertise to inspect the fireplace logs. Sometimes the color starts to fade due to long-term use. They will suggest the proper ways to use your fireplace, so the color doesn't fade too early.
Inspecting gas ignition: Specialists clean all the valves and ports, correct the logs, check for gas leaks, and perform a few other tasks to ensure a satisfactory cleaning result.
Additionally, when it's time to clean a gas fireplace, the professionals vacuum out any dust mites, dead insects, or pet hair that have accumulated within.
Carbon monoxide detectors: Testing and cleaning carbon monoxide detectors are essential to ensure your home's safety. These detectors can warn you of fatal monoxide leaks.
Gas Chimney cleaning experts test carbon monoxide detectors as part of a regular fireplace service. They employ cleaning brushes, canned air, and vacuum cleaners to complete the task.
As the carbon monoxide detector's sensor is delicate, it is preferable to leave fireplace cleaning professionals in charge of this cleaning procedure.
Complete Inspection of Gas Chimneys: The entire gas chimney will be inspected inside and outside. Condensation is the most severe hazard to a gas fireplace's chimney, and not to mention, a weakened chimney will have damp spots on the walls, ceiling stains, and white blotches on the outside stonework. Experts will seal the deal with a thorough inspection of gas chimneys.
If you haven't called the pros yet, do so now.
How Much Does Chimney Cleaning Cost?
Depending on the area you live in and the size and condition of your fireplace, the cost of service and cleaning differs. You can expect to spend between $99 and $200 for a thorough gas chimney cleaning. In some areas, the price may be a bit higher.
It's Time to Call The Expert Chimney Cleaners
DIY chimney cleaning will minimize your cost, but it's always best to get in touch with professional chimney cleaners. Since a gas chimney is a sensitive appliance, it's risky to clean it yourself if you are not experienced or expert enough. So, why take the risk? Contact the pros to get the best gas chimney cleaning at least annually.