If you are concerned about your family's health, the first thing you should do is ensure a clean HVAC system in your household and office. Dirty HVAC can affect your health. If you don't clean and sanitize it for a long time, you may have breathing and skin problems.
To sanitize HVAC, you need to follow some steps for perfect results. People are confused about this, and they want to know more about it. This article tells you about sanitizing HVAC, such as what is HVAC sanitization, how and why to do it, and other things that will clear all your confusion.
What is HVAC System Sanitizing?
Sanitizing the HVAC system is very important to remove all germs and bacteria. You need experienced technicians to sanitize it. The sanitizer is applied via a fogger, covering the whole interior of the HVAC system due to negative air pressure. This type of sanitizer has no smell and is entirely safe to use.
How to Sanitize HVAC Systems?
When Possible, Keep The Air Flowing
If the temperature control of the room is solely dependent on the HVAC system, you rely on recycled air. This means that germs when the bacteria enter your home but aren't removed. One thing you must do is keep the air flowing.
Simple actions like opening windows or utilizing ventilation fans can aid in the removal of old air and the reduction of harmful air with bacteria in your home. If you allow natural air to flow in the room by keeping the window open, it will help sanitize the HVAC system.
Keep your windows open occasionally. This will also help improve the air quality of your room.
Control Humidity in Your Home by Installing Humidifiers
Virus & Flu thrive in low humidity environments. CNN recommends homes to be kept at 40-60%, as this keeps airborne and on surface flu germs on the low.
Here's what you need to create the perfect balance -
a. Buy a hygrometer. This device lets you know the exact atmospheric humidity level of your house.
b. Purchase a whole-home humidifier that is right for your room size and efficient in germ prevention. Avoid entry-level humidifiers as they store their own germs and portable ones since they're not always very efficient.
Apply Ultraviolet Light
Add UV technology to your HVAC system to sanitize it. This can be done by installing a directed UV-C light at the air mover that moves cooled or heated air throughout your home. You'll be sending air through powerful sanitizing technology as it flows around your home.
Check to see whether your humidifier has a UV-C light built-in. This can help prevent your humidifier from becoming a testing ground for the viruses you are trying to remove. By doing this, you can easily sanitize your HVAC system as UV light reduces the germs and bacteria from the air.
Purchase Air Filtration
We can't always afford to keep our windows open - especially during the winter or summer. Recycled air is more prone to airborne germs. When dry air is recycled through your furnace time and time again, it is more likely to be filled with germs.
HVAC systems use filtration to remove dust and particulates from the duct, a. It cleans the air and returns it to the house. These filters can be thought of as air purifiers. After use, you have to replace these filters regularly. If the filters are not replaced, they will no longer be able to remove particles from the air. You will breathe in polluted air. The air quality will improve if the filters are replaced regularly.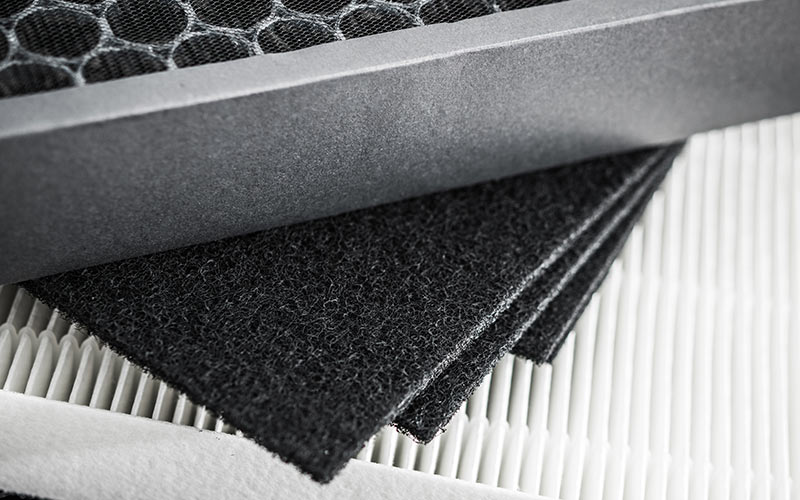 Doctors recommend using a High-Efficiency Particulate Air (HEPA) filter, as they are considered the most effective air purifying tool available. These are efficient not only in removing microbes, but also dust, mites, pollen, and other allergens.
Clean the Areas Near HVAC System
You can sanitize the HVAC system by cleaning the areas near it. You need to keep in check these areas and clean them properly. Such as:
Keep the central air conditioning neat and clean.
Clean the furnace near the HVAC system.
Clean the Air Conditioner regularly.
Clean the Drainage hole.
Don't forget to clean the air duct and vent.
FAQs
Should We Take Precautions Before Sanitizing HVAC System?
If you want to sterilize your HVAC system, you need to take precautions first so that you don't face any issues. The following are the precautions you should take before sanitizing:
Put on a mask so that dirt and dust don't enter your lungs.
Wear gloves so that you can protect your hands.
Don't forget to wear goggles; otherwise, dirt and dust will get into your eyes.
Why Should We Sanitize HVAC Systems?
People always ask a question about why we should sanitize the HVAC system. The answer is pretty simple. If the HVAC system gets dirty and infected with germs and bacteria, it may create health-related issues. You are breathing the same air from the HVAC and air duct.
Through this air, germs and bacteria can enter your lungs. It may cause lung disease and breathing problems. Besides this, because of the dust and dirt of the HVAC system, you may have skin disease and eye irritation.
The only way to avoid all these problems is to clean and sanitize the HVAC system. That is why we all should sanitize the HVAC system.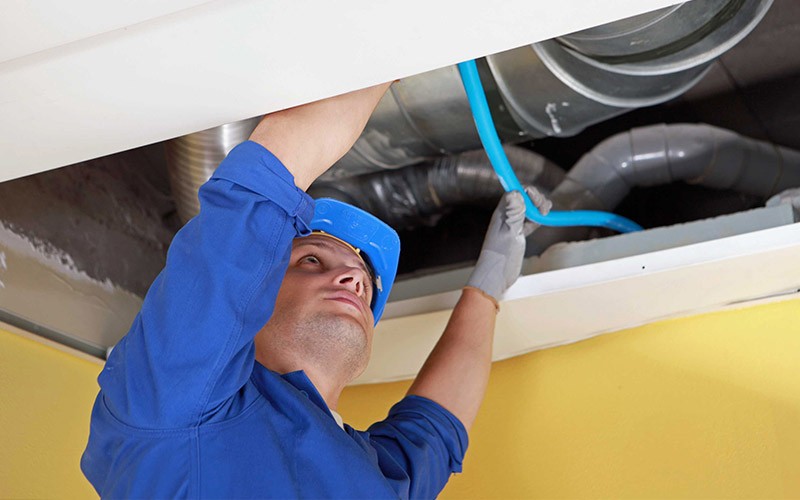 How Often Should We Sanitize HVAC Systems?
There is no fixed time to sanitize the HVAC system. If you don't have any respiratory issues like Asthma, you can sterilize it in 6 to 12 months.
Because HVAC sanitization only lasts 6 to 12 months. However, if you want to keep your health secure and avoid any lung problems, you can do it after a two-year gap.
Is Sanitizing HVAC Systems Safe?
People who want to sanitize the HVAC system want to know whether it is safe or not to do. It depends on the type of HVAC system and how well it is installed. Technicians with experience know how to disinfect HVAC systems safely.
In terms of the chemicals utilized, a common disinfectant is safe. If you do this all by yourself, you may face some issues such as skin problems, breathing problems, eye problems, etc. Before sanitizing this, always remember that proper precautions are a must.
If you have experience in this, then you are good to go. You should hire suitable professionals to sanitize the HVAC system if you are new.
Seems Complicated? Hire Professionals
Sanitizing the HVAC system might look complicated if you plan to do so by yourself, especially when you are new in this field. If you go for the HVAC sanitizing process, then you may face some issues such as skin problems, eye problems, and breathing problems.
You should hire professionals to sanitize the HVAC system to avoid all these problems. They know their job, and they are good at it. SO they will sanitize the HVAC for you without any damage.
You can stay tension free and let the professionals do their job. If you hire professionals, you don't have to face health-related issues. Because of all these reasons, you should hire professionals.
Final Note
It is very important to sanitize the HVAC system to avoid health-related issues. Some of the best ways have been discussed, and you can follow them easily. If you face some difficulties in doing so, you can hire professionals to sanitize the HVAC system.